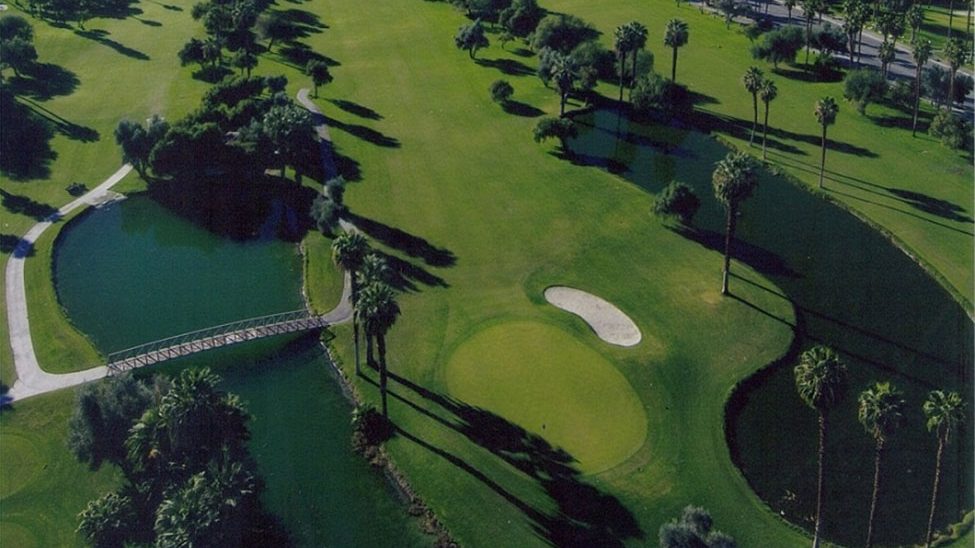 Mesquite Golf and Country Club has been around since 1984 and has offered great values for Desert Golf.. This course offers stunning views of the San Jacinto Mountains, beautiful desert weather, combining quick pace of play and affordable green fees/cart fees. Additionally, Mesquite Golf and Country Club hosts a large driving range, as well as a practice bunker and putting range.
Mesquite Golf and Country Club is located in a prime area. Our location is near Downtown, Palm Springs, just minutes from hotels, restaurants, casinos and the Palm Springs airport.
The Club House currently does not have an open bar or restaurant available. In our Pro- Shop we do have snacks and non-alcoholic drinks to purchase, along with shirts, sweaters, hats, tee's, and gloves.
Features & Amenities
Open To The Public
18 Holes – Par 72
Scorecard & Stats
Rating/Slope
Black: 69.5/122
Blue: 68.0/118
Yellow: 70.8/120
| | | | | | | | | | | |
| --- | --- | --- | --- | --- | --- | --- | --- | --- | --- | --- |
| Hole | 1 | 2 | 3 | 4 | 5 | 6 | 7 | 8 | 9 | Out |
| Black | 518 | 224 | 535 | 188 | 375 | 338 | 491 | 173 | 366 | 3208 |
| Blue | 504 | 174 | 492 | 175 | 363 | 327 | 482 | 159 | 352 | 3028 |
| Handicap | 3 | 5 | 1 | 11 | 9 | 17 | 13 | 15 | 7 | |
| Par | 5 | 3 | 5/4 | 3 | 4 | 4 | 5 | 3 | 4 | 36/35 |
| Yellow | 484 | 148 | 355 | 156 | 347 | 300 | 463 | 141 | 339 | 2733 |
| Handicap | 1 | 13 | 5 | 11 | 7 | 15 | 3 | 17 | 9 | |
| | | | | | | | | | | | |
| --- | --- | --- | --- | --- | --- | --- | --- | --- | --- | --- | --- |
| Hole | 10 | 11 | 12 | 13 | 14 | 15 | 16 | 17 | 18 | In | Tot |
| Black | 481 | 195 | 290 | 382 | 169 | 490 | 206 | 456 | 435 | 3104 | 6312 |
| Blue | 464 | 167 | 280 | 366 | 150 | 474 | 182 | 413 | 421 | 2917 | 5945 |
| Handicap | 10 | 8 | 18 | 14 | 16 | 12 | 6 | 2 | 4 | | |
| Par | 5/4 | 3 | 4 | 4 | 3 | 5 | 3 | 4 | 4/5 | 35 | 71/70 |
| Yellow | 365 | 127 | 262 | 344 | 117 | 451 | 171 | 351 | 409 | 2597 | 5330 |
| Handicap | 2 | 16 | 14 | 12 | 18 | 6 | 4 | 10 | 8 | | |